Lilah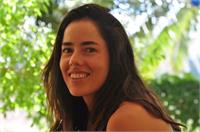 Lilah has been teaching yoga for 17 years. She is devoted to the yoga tradition and studied various yoga styles including Raja yoga, Ashtanga Yoga Vinyasa, and Hatha yoga. Her background also includes Ayurveda, Zen, Karate, and Vipassana. This diversity gave her a deep sense of how everything ultimately connects. Lilah's teaching is given with simplicity and clarity and she likes to set a good solid foundation and help practitioners understand and connect deeper with their body-mind and spirit. She finds the yoga practice as a great nourishment for the heart, for the body and the unity between them on the everyday level.
Lilah spent three years focusing and studying alignment in which she got passionate to teach and pass these tools and understandings to her students. She believes and experienced that when you understand rightly a posture, and when you do rightly a posture, the whole body knows it arrived into the right position. It syncs, and the intelligence of the body recognizes it like a light bulb turning ON.
Lilah emphasizes in her workshops the yoga philosophy and the way of life of the yoga tradition. She is sharing transformative tools for a calm, relaxed and joyful life.
Lilah instructs the following:
Vinyasa level 1-2 is a dynamic and joyful practice. Learning the postures in details, getting deeper into your practice and sync in it, finding your essence within. Taking you to a new level. Enjoying your stability, balance, and strength, while expanding your body and replenish your energy. There will be hands-on alignment, adjustments and a sharing of the essential yoga philosophy.
open to all levels.




Yin yoga is a slow-paced style of yoga with postures or asanas that are being held for a longer period of time. Dwelling in with mindful breath and an open heart. Focusing and bringing your awareness into your deep connective tissues and expanding your flexibility slowly invigorating the centers of your body on releasing blockages and increasing your essential flow. A fine healthy nourishing practice that complements any other forms of practice.