Nicola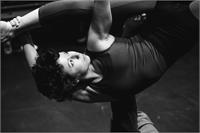 From Dundalk, Co. Louth, Nicola first fell in love with Easern philosophy and practices while working in
Mother Teresa's orphange in India at age 16. Ever since then Nicola continued exploring and training with
various renowned teachers and styles. After working as a metal smith for a fashion designer in New York,
Nicola wanted to turn her artistry and passion, to nurture the body. On a return visit to India she studied at
Arhanta Yoga Ashram and became a qualified yoga teacher.
It was also in New York that Nicola found Acroyoga which sparked oppurtunity to delve into the
acrobatic and aerial dance scene more. This took her to Spain training intensively with Partner
Acrobatics, then to Croatia, Germany, Netherlands and most recenly Israel. Nicola still continues this
with professional circus artists in Dublin.
Her dynamic background will offer stength and conditioning, body flexibility and a safe environment for
general well being. Reverting back to your five year old self, no inhibitions, just present in the feeling.
Nicola instructs the following:
Suitable for all levels, but those new to yoga should start with beginners flow. This 75 minute class is designed to build heat and strength. This practice is a total body workout that creates longer, leaner muscles and body with more mobility to improve circulation. We recommend that students seeking to take these classes feel confident, safe and strong throughout classic sun salutations.




A strong flowing class for those who want to take their practice to the next level. In this class there will be a chance to play with inversions and arm balances, learning to develop the skills to enter into advanced asanas safely.




Our hot classes go up 34 degrees, enough to experience all the benefits of a hot yoga class without being overly intense. Within this class the postures are linked in a seamless manner, creating a natural flow of movement linked with breath. Flow will provide cardiovascular benefits, as well as muscle-strengthening and stamina-building. Each class will offer different content that challenges you mentally and physically.




Though still a heated class, we drop the temperature to 28 degrees in this class to allow for beginners or those new to Hot Yoga to become accustomed to the heat. This is a good choice for beginners or if you like a slower class. Yoga 1 is a slower-paced flow class geared towards those new to yoga or preferring a slightly gentler class. Time is spent breaking down sun salutations and other poses fundamental to a Yoga practice. Props and modifications offered for proper alignment and ease in the postures. The teacher will guide you through a unique combination of standing and floor postures that will challenge balance, strength and flexibility.