Phoebe H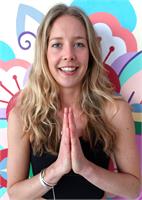 Phoebe was first introduced to yoga in 2012 whilst training at The Oxford School of Drama. It was a vital tool for connecting mind and body at the start of each day and she really felt the difference on the days I didn't practise. She was hooked after that, and yoga become a huge part of her life, changing and guiding her towards being my happiest, healthiest self, both mentally and physically. I knew this was going to be a lifelong love and as a natural teacher, the step towards taking her teacher training was an inevitable one, even though it took a lot of courage to get my there. She trained in Frog and Lotus Vinyasa Flow, which is creative, with a strong emphasis on breathwork, alignment and adjustments, all of which she has developed into her own teaching.
Phoebe H instructs the following:
A introductory class teaching foundation and basic poses. Open to new students and accessible for those who've never done yoga before. Join others at the intro level and build confidence to move into other Yoga 1 classes. All welcome!




Discover the benefits of this powerful style of yoga that is gentle yet empowering.

Whether you are looking to de-stress, energize, or find balance, restorative yoga can be an effective way to reach your goals for wellness.

Restorative yoga is a simple, safe, effective, non-invasive form of yoga that anybody can practice.

Suitable for beginners through to advanced yoga practitioners and yoga teachers.

Restorative yoga provides us with a gentle practice to help us relax, regenerate and renew. It complements any other forms of exercise we may be engaged in including any forms of yoga.