Haelee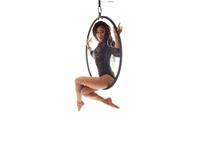 Haelee is a pole dancer from Australia who loves all things movement, spending a lot of time upside down in handstands or on the pole. Haelee moved from Canberra, Aust. to Dublin in 2015 to challenge herself and skillset in the Irish and European market and competitive arena. In 2016 she won the All Ireland Pole Dance Championships, her first time ever competing.
From a young age Haelee has always played competitive sports including representing her home state at nationals for baseball serveral times and numerous track and field athletics events.
She has an energetic infectious energy and is usually heard before she is seen. You can find Haelee teaching Barre, Pole Fitness and Skulpt Conditioning across all three Yoga Dublin studios.
Haelee instructs the following:
Amp up your barre workout and increase the sweat factor! This is a fun, energetic, workout that fuses techniques from Ballet, Pilates, and Yoga that will tone, define and chisel the whole body. Skulpt barre is the perfect combination of strength and flexibility with an added high intensity cardiovascular element utilizing the barre.

Open to all levels!






Amp up your workout and increase the sweat factor! Combining cardio and fitness workouts to burn calories and develop muscles all at the same time. Strengthen and tone your abs, back, thighs and virtually every major muscle of your body with the help of this body skulpting class. Open to all levels.