Aislin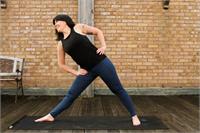 Aislin has been practicing yoga for over ten years in her native city, Philadelphia. Her practice took on new depth and dimension during her Peace Corps service in the Republic of Armenia. In Armenia she witnessed the transformative power of yoga for herself as well as for her community. Upon her return to Philadelphia she dedicated herself to learning the art of sharing this practice and its lessons both on and off the mat.
Aislin's vinyasa classes emphasize a balance of strengthening and softening using the breath as a guide. She encourages her students to challenge themselves in discovering how the practice of yoga revitalizes and restores the body, the heart, and the mind.
Aislin's yin classes center around the idea of anatomical uniqueness, and use the experience of lengthening the fascia to infuse the body with breath and poetry.
Aislin studied under the guidance of Corina Benner for her 250 hour Vinyasa Teacher Training, and Yin Yoga Teacher Training.
Aislin instructs the following:
Start your day in an energizing way with an earlybird vinyasa yoga class. Ensuring that you start your day with a spring in your step.

The class will be challenging but she promises not too brutal! So whether you want to stretch before work, or just start your day early with a strong class, come along.

Intermediate Level class - not for beginners.




A introductory class teaching foundation and basic poses. Open to new students and accessible for those who've never done yoga before. Join others at the intro level and build confidence to move into other Yoga 1 classes. All welcome!




Yin Yoga is a style of yoga where we hold poses for 3-5 minutes with the help of props, allowing the fascia to release and promoting openness and flexibility in the body. It's a wonderful practice to compliment a more traditional Yang practice. A slow meditative time to let go.

Suitable for all levels.