Padmini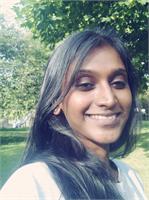 Padmini draws from many traditions of Hatha Yoga to build strength, flexibility and coordination on both sides of the body. She is a certified teacher of Sivananda Yoga Vedanta Centre in India. Her thoughtful instruction emphasises aligned integration of the body and mind helping students find physical, mental and emotional balance. She loves the authenticity found in simply moving and sweating. Padmini sees it as her responsibility to positively influence others' lives through Yoga - one Asana at a time.
Padmini instructs the following:
For many, the practice of Yoga is restricted to Asanas (Postures). Yogic postures (Asanas) together with breath control techniques (Pranayama) provide immense physical and psychological benefits. Asanas is only a preparatory process so that the body can sustain higher levels of energy. Pranayama leads towards control of life force in us. It helps is developing awareness of one's mind and establishing control over the mind. It strives for attaining inner peace and union with the environment by means of quietening the constant chatter of the mind. Asanas and Pranayama better integrates mind, body and spirit into one harmonious entity.

Yogadublin is happy to introduce this Morning Meditation & Breathwork Course with Padmini Radhakrishnan from India. Learn and practice the basic breathing techniques that forms the vital part of your yoga practice.

5 Weeks €60




The most relaxing way to finish off your work week...This class blends elements of gentle movement, restorative Yoga, meditation and Yoga Nidra. The aim of this class is to ease tension and stress that builds up in our bodies and minds. Using various established techniques to help you arrive in a place of deep and alert relaxation.