Aoife Mo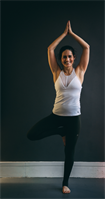 As an educator for 20 years, Aoife fell in love with the potential of yoga to bring about personal transformation and wellbeing, different to that which can be achieved in the academic setting of lecture room or classroom. Whether a strong Vinyasa or a static Yin practice, the meditative aspects of the practice are fundamental to how she teaches.
As a published songwriter with an MA in Music Technology, her classes combine a musicological awareness with a dedication to unpack the language of yoga in new and evolving ways. She completed her 200hrs with Sibylle Dallmann and Naomi Sturdy at Yoga Dublin in 2016.
Aoife Mo instructs the following:
LEVEL 2 Vinyasa classes explore complex movements and sequences including arm balances and inversions layered over solid foundations. These classes may incorporate deeper backbends, hip opening, twists, and forward folds. The teacher will encourage rest periods and offer modifications as needed.

Not recommended for beginners.




PRICES:

Single class €16
Included in class packs/ unlimited class passes




A creative mix of Hatha Yoga and mindful meditation leaving you feeling balanced, relaxed and lighter. This is a gentle flow yoga 1 class which is perfect for beginners, golden oldies, or people wanting to challenge themselves to slow down their practice. Some mindful meditation techniques are incorporated in to ease you into the week ahead in the most relaxing way!




Gear up for your weekend with this dynamic, kick-asana class for the true power yoga junkie. You've worked hard all week. Continue to work hard in an hour long class with Aisling!

A strong and dynamic yoga class for those with some previous experience (not for beginners)!

Entering Savasana after an arduous class, especially following a tough week, can be healing in so many ways.

Perfect way to end your week!

PRICE:

€16 per class
Included in Unlimited Class Passes/ Class Packs




Yin Yoga is a style of yoga where we hold poses for 3-5 minutes with the help of props, allowing the fascia to release and promoting openness and flexibility in the body. It's a wonderful practice to compliment a more traditional Yang practice. A slow meditative time to let go.

Suitable for all levels.