Susie C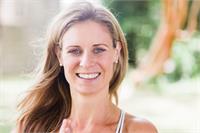 Susie first discovered yoga when living in sunny Sydney, Australia where she practised outdoors on the beautiful sandy beaches. Since moving back to Dublin in 2014 she qualified as a yoga teacher (and still practises outdoors when the weather allows!), mainly teaching a dynamic vinyasa style class focused on breathing and alignment. Previously working as a psychologist for 10 years she draws on this experience to create yoga sessions that are thoughtful and mindful as well as energetic and flowing. Every class is an opportunity to hit the "restart" button and she is dedicated to giving her students the opportunity to slow down and balance the body and mind.
Since the birth of her daughter Ella Susie is passionate about yoga as a tool for empowering women and their bodies both during and after their pregnancies. She is qualified in pre and post-natal/ mum and baby yoga as well as kids and teens yoga and teaches regularly in schools across Dublin.
Susie C instructs the following:
Open to those who are completely new to Yoga as well as those who are experienced.

Must be beyond 14 weeks and can continue up until the birth.

Prebooking is essential.

--

What is Prenatal Yoga?

During pregnancy your body goes through many changes, which creates stress on you mentally and physically. A way to maintain a healthy mind and body is prenatal yoga.

Prenatal yoga focuses on poses for pregnant women, in order to increase strength and flexibility.

It also helps pregnant women to develop proper breathing and relaxation techniques for easier and more comfortable labor.

What Are The Benefits Of Prenatal Yoga?

Improved sleep
Reduced stress
Increased strength, flexibility and endurance
Decreased lower back pain
Decreased nausea
Decreased carpal tunnel syndrome
Decreased headaches
Reduced risk of preterm labor
Lowered risk of intrauterine growth restriction (condition that slows the baby's growth)
In addition to the benefits listed, studies have found there is a relationship between prenatal yoga and the reduction of hypertension-related complications, as well as, improvement of fetal outcome.

---

Prices:

Single Class €18
6 Class Pass €100 (valid for 6 months)

Your insurance provider may contribute towards your pre/ postnatal yoga expenses. Check your policy for more details. Receipts can be issued for classes.