Grace T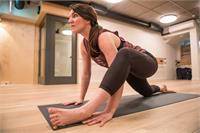 Grace Tempany is an educator, yoga teacher, and wellbeing practitioner based in Dublin. She is passionate about connecting with and empowering her students and clients within the classroom, on the mat, and out in the world.
n 2013 Grace took a break from academia and spent three years travelling, training, and teaching yoga in California, Indonesia, New Zealand, New Caledonia and Australia. Her initial Bikram Yoga training was followed by Yin Yoga and Yin/Yang Yoga Therapy training with Mysan Sidbo, Insight Yoga with Sarah Powers, and a specific Yin Mindfulness module with Josh Summers. To date, Grace has completed close to 1000 hours of training and has taught at over 40 yoga studios across both hemispheres. She considers continual learning one of the cornerstones of her teaching and practice ; one can only hold space as a teacher when in humble acceptance of how little we can truly 'know' for sure.
Grace's yoga teaching stems from a keen awareness of anatomical singularities and meridian theory, coupled with a deep focus on cultivating greater awareness and compassion in her students. Her classes are challenging and transformative - just like the practices themselves - and you will emerge feeling nurtured and inspired.
Grace believes that our ability to connect deeply with ourselves and with others lies at the core of our understanding. She is passionate about finding a place for mindfulness, yoga, and meditation within the mainstream education system.
Grace T is currently not instructing any classes.