Amy Charlie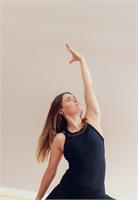 Amy is originally from London where she taught yoga and meditation to promote positive mental psychology.
Amy's interests include travel, photography, drawing meditation and standing on her head.
Amy Charlie instructs the following:
A creative mix of Hatha Yoga and mindful meditation leaving you feeling balanced, relaxed and lighter. This is a gentle flow yoga 1 class which is perfect for beginners, golden oldies, or people wanting to challenge themselves to slow down their practice. Some mindful meditation techniques are incorporated in to ease you into the week ahead in the most relaxing way!




Suitable for all levels, but those new to yoga should start with beginners flow. This 75 minute class is designed to build heat and strength. This practice is a total body workout that creates longer, leaner muscles and body with more mobility to improve circulation. We recommend that students seeking to take these classes feel confident, safe and strong throughout classic sun salutations.




This is a yoga 2 class where we generate heat in the body through a constant flow. This will make you break a sweat before work, with some mindful meditation techniques thrown in to teach us focus in midst of a busy week setting us up for the day ahead in the best way! Come challenge yourself to feel good by starting your day in the best way!




Level 1-2 classes are for those with some experience of yoga – intermediate and more challenging poses are introduced but variations and modifications will be offered. If you are looking to move beyond your level 1 class, this is for you!

Prices:
Single Class €16
Included in Unlimited Class Passes/ Class Packs
http://yogadublin.com/class-prices




Gentle Yoga is a unique sequence of movements and postures which has been developed as a means of introducing the practice of yoga to beginners of all ages and of all levels of fitness. It is particularly suitable to those seeking to improve their flexibility, health and general well-being.




This class is for you, if you are……
……….ready or curious to MOVE BEYOND LEVEL 1 or have PREVIOUS YOGA EXPERIENCE.

Level 1-2 is designed to take you deeper into your practice by introducing asanas which will challenge you equally on strength & flexibility, so you can discover true harmony in body & mind.

Each class combines a dynamic vinyasa practice with meditation, hands-on alignment, basic yoga philosophy, deep relaxation…and some good sounds!

As we suggest more challenging variations as your practice develops, this is a great place for you to laugh, play and grow in your own time.