Rosanne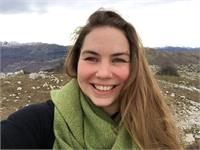 Years of dancing and yoga provide Rose with the ultimate background for teaching the most luscious and exhilarating classes. As a Forrest Yoga teacher, Rose's classes evolve around movement in a pain- and injury free way. Her practice is challenging and unique, leaving you energized and ready to take on anything.
Working for one of Dublin's tech companies herself, Rose finds that yoga is essential to offset the stress associated with corporate life and balance the intellectual aspect with the physical. Being able to share the benefits of yoga is what energizes her!
Rosanne instructs the following:
Forrest Yoga is an innovative system founded by Ana Forrest, based on an ancient practice and adapted to the bodily needs of our modern lives. It is based on 4 pillars: breathing, strength, integrity and spirit. The four pillars are revisited in every class through themes, intention, ceremony and yoga practice.
Forrest Yoga is simultaneously intense, dynamic and playful. The series are built with yoga sequences ("vignettes") which are vigorous, modern, intelligent and adaptable to all levels.
Forrest Yoga does not require strength or flexibility; it only requires a willingness to learn how to feel authentically and respond honestly.

Heated class, 34 degrees.