Niamh M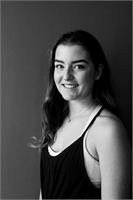 Niamh was introduced to yoga four years ago while travelling, and was immediately drawn in by the focus on body and mind. Ever since her first experience of yoga, the physical and mental benefits of the practice have been numerous. Yoga has provided Niamh with a means to feel stronger in her body, while also teaching her to quieten the mind. Niamh trained with Sibylle & Naomi at The Art of teaching in Yoga Dublin. She teaches a vinyasa style of yoga in heated and unheated environments.
Niamh M instructs the following:
Gear up for your weekend with this dynamic, kick-asana class for the true power yoga junkie. You've worked hard all week. Continue to work hard in an hour long class with Aisling!

A strong and dynamic yoga class for those with some previous experience (not for beginners)!

Entering Savasana after an arduous class, especially following a tough week, can be healing in so many ways.

Perfect way to end your week!

PRICE:

€16 per class
Included in Unlimited Class Passes/ Class Packs




A introductory class teaching foundation and basic poses. Open to new students and accessible for those who've never done yoga before. Join others at the intro level and build confidence to move into other Yoga 1 classes. All welcome!




Suitable for all levels, but those new to yoga should start with beginners flow. This 75 minute class is designed to build heat and strength. This practice is a total body workout that creates longer, leaner muscles and body with more mobility to improve circulation. We recommend that students seeking to take these classes feel confident, safe and strong throughout classic sun salutations.




This is a yoga 2 class where we generate heat in the body through a constant flow. This will make you break a sweat before work, with some mindful meditation techniques thrown in to teach us focus in midst of a busy week setting us up for the day ahead in the best way! Come challenge yourself to feel good by starting your day in the best way!




Level 1-2 classes are for those with some experience of yoga – intermediate and more challenging poses are introduced but variations and modifications will be offered. If you are looking to move beyond your level 1 class, this is for you!

Prices:
Single Class €16
Included in Unlimited Class Passes/ Class Packs
http://yogadublin.com/class-prices




Welcome to our Karma Yoga Class!

Each week will be a different type of class led by a different teacher at Yoga Dublin. Classes are mixed level. Please sign up ahead of time through the Yoga Dublin app to reserve your spot.