Kate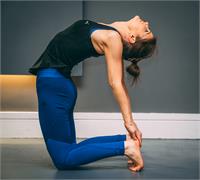 Kate discovered yoga 10 years ago starting with Ashtanga practice. She fell in love with the strong but meditative physical aspect and the sense of balance and peace it gave. After years of regular practice, she knew she wanted to further her yoga knowledge with teacher training in the hopes of passing onto others some of the sense of calm, strength and belief in oneself that comes with yoga practice. She trained to become a teacher and completed her YTT 200hrs with Sibylle Dalmann and Naomi Sturdy at Yoga Dublin. With a love for the outdoors and an active lifestyle she believes the body is capable of many wonderful things and offers an invigorating vinyasa style class pairing the breath with fluid movement developing focus, mobility and strength. When not on the mat she enjoys nothing more than hikes in the hills and sunrises by the sea.
Kate instructs the following:
Though still a heated class, we drop the temperature to 28 degrees in this class to allow for beginners or those new to Hot Yoga to become accustomed to the heat. This is a good choice for beginners or if you like a slower class. Yoga 1 is a slower-paced flow class geared towards those new to yoga or preferring a slightly gentler class. Time is spent breaking down sun salutations and other poses fundamental to a Yoga practice. Props and modifications offered for proper alignment and ease in the postures. The teacher will guide you through a unique combination of standing and floor postures that will challenge balance, strength and flexibility.




Suitable for all levels, but those new to yoga should start with beginners flow. This 75 minute class is designed to build heat and strength. This practice is a total body workout that creates longer, leaner muscles and body with more mobility to improve circulation. We recommend that students seeking to take these classes feel confident, safe and strong throughout classic sun salutations.