Kate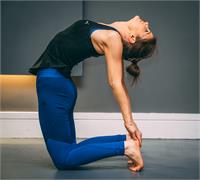 Kate instructs the following:
Though still a heated class, we drop the temperature to 28 degrees in this class to allow for beginners or those new to Hot Yoga to become accustomed to the heat. This is a good choice for beginners or if you like a slower class. Yoga 1 is a slower-paced flow class geared towards those new to yoga or preferring a slightly gentler class. Time is spent breaking down sun salutations and other poses fundamental to a Yoga practice. Props and modifications offered for proper alignment and ease in the postures. The teacher will guide you through a unique combination of standing and floor postures that will challenge balance, strength and flexibility.




Our hot classes go up 34 degrees, enough to experience all the benefits of a hot yoga class without being overly intense. Within this class the postures are linked in a seamless manner, creating a natural flow of movement linked with breath. Flow will provide cardiovascular benefits, as well as muscle-strengthening and stamina-building. Each class will offer different content that challenges you mentally and physically.