Kate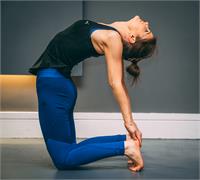 Kate discovered yoga 10 years ago starting with Ashtanga practice. She fell in love with the strong but meditative physical aspect and the sense of balance and peace it gave. After years of regular practice, she knew she wanted to further her yoga knowledge with teacher training in the hopes of passing onto others some of the sense of calm, strength and belief in oneself that comes with yoga practice. She trained to become a teacher and completed her YTT 200hrs with Sibylle Dalmann and Naomi Sturdy at Yoga Dublin. With a love for the outdoors and an active lifestyle she believes the body is capable of many wonderful things and offers an invigorating vinyasa style class pairing the breath with fluid movement developing focus, mobility and strength. When not on the mat she enjoys nothing more than hikes in the hills and sunrises by the sea.
Kate instructs the following:
This class is a shorter modified version of the traditional Primary Series making it accessible to all levels and those under time constrains. Starting with Sun Salutations to generate heat and begin the flow of energy and prana throughout the body, then moving on to Standing Poses and Seated Poses.
The real magic of the practice happens through the channeling of the breath with movement with emphasis on the breath count. The class is guided / led and modifications of poses will be shown for ability levels. This class will give you the opportunity to flow, breathe, and sweat at your own pace.