Lucybloom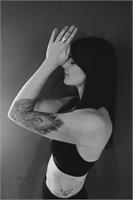 Lucybloom found Yoga many years ago while living a hectic lifestyle in London. After years as a make-up artist in the demanding world of tv and film, she decided to spend some time in India and trained as a Yoga Teacher. She has been teaching ever since and continues to deepen her knowledge of both Yoga and Ayurveda.
Her style of teaching is heavily influenced by her own ashtanga practice - a strong vinyasa style. The focus of her classes is to use the breath as a focus to leave the overactive mind and drop into the body, encouraging you to seek your own truth beneath the chatter and influence of the mind.
Lucybloom instructs the following:
PRE-BOOKING ESSENTIAL

Start your day in an energizing way with an earlybird yoga class from 7-8am. This class will ensure that you start your day with a spring in your step.

The class will be vinyasa flow, suitable for beginners or those looking for a yoga class to start their day! So whether you want to stretch before work, or just start your day early with a nice class, come along.




Get your stretch on during your lunch break! Join Lucybloom for a fluid flow for a snappy 45 mins, where we will work through a dynamic sequence and a short meditation. The perfect midweek treat.




Level 2 classes are designed to take you deeper into your practice by introducing asanas which will challenge you equally on strength & flexibility, so you can discover true harmony in body & mind.


Each class combines a dynamic asana practice with meditation, hands-on alignment, basic yoga philosophy, deep relaxation…and some good sounds!

As we suggest more challenging variations as your practice develops, this is a great place for you to laugh, play and grow in your own time.

Not suitable for beginners.