Andrea S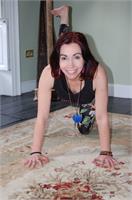 Andrea is a qualified Stott Mat Pilates instructor.
Her background is twenty years of movement; dance, physical theatre, and movement training.
Since a pregnancy rendered her with the debilitating pelvic girdle pain and as pilates was the only cure she decided to immerse herself in training in order to help others become pain and injury free. Andrea is passionate about the benefits of pilates and love passing it on to class participants.
Andrea S instructs the following:
The Pilates Method is an exercise system focused on improving flexibility and strength for the total body without building bulk. It is a series of controlled movements engaging your body and mind,which aims to promote a feeling of physical and mental well-being.Benefits include toning the stomach, buttocks, thighs, upper body. Increasing strength, flexibility, improving circulation and respiratory function. Boosting immune system, improving posture and lowering stress.




Not suitable if pregnant. If you have a regular yoga practice at Yoga Dublin and want to continue attending non ­prenatal class only some teachers permit students to attend when pregnant so please notify us when booking to check with the teacher.