Andrea S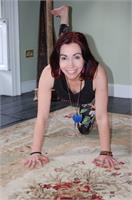 Andrea is a qualified Stott Mat Pilates instructor.
Her background is twenty years of movement; dance, physical theatre, and movement training.
Since a pregnancy rendered her with the debilitating pelvic girdle pain and as pilates was the only cure she decided to immerse herself in training in order to help others become pain and injury free. Andrea is passionate about the benefits of pilates and love passing it on to class participants.
Andrea S is currently not instructing any classes.