Andrea Mc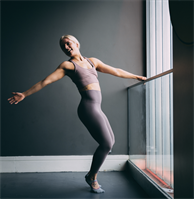 Health and wellness has been a huge part of Andrea's life from an early age. Born in London, Andrea trained in ballet before moving to Dublin where she competed in a variety of sports such as hockey, tennis, basketball and running.
After the birth of her first daughter in 2009, exercise became an integral part of her daily routine and helped her to cope with daily stresses. Pilates was not her first choice of exercise, however, after suffering from back pain following two pregnancies she quickly discovered what a powerful tool it was. Pilates complements all forms of exercise, helping you to slow down and become in complete control of every part of the body.
Andrea is qualified in pre- and postnatal, beginner to advanced Pilates, small equipment, Pilates for the ageing population, healing diastais rectus and barre concept. Andrea loves to learn and continues her education to update her skills.
Andrea Mc instructs the following:
Amp up your barre workout and increase the sweat factor! This is a fun, energetic, workout that fuses techniques from Ballet, Pilates, and Yoga that will tone, define and chisel the whole body. Skulpt barre is the perfect combination of strength and flexibility with an added high intensity cardiovascular element utilizing the barre.

Open to all levels!






Amp up your workout and increase the sweat factor! Combining cardio and fitness workouts to burn calories and develop muscles all at the same time. Strengthen and tone your abs, back, thighs and virtually every major muscle of your body with the help of this body skulpting class. Open to all levels.