Andrea Mc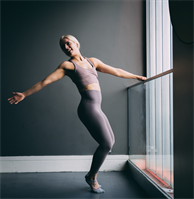 Health and wellness has been a huge part of Andrea's life from an early age. Born in London, Andrea trained in ballet before moving to Dublin where she competed in a variety of sports such as hockey, tennis, basketball and running.
After the birth of her first daughter in 2009, exercise became an integral part of her daily routine and helped her to cope with daily stresses. Pilates was not her first choice of exercise, however, after suffering from back pain following two pregnancies she quickly discovered what a powerful tool it was. Pilates complements all forms of exercise, helping you to slow down and become in complete control of every part of the body.
Andrea is qualified in pre- and postnatal, beginner to advanced Pilates, small equipment, Pilates for the ageing population, healing diastais rectus and barre concept. Andrea loves to learn and continues her education to update her skills.
Andrea Mc instructs the following:
Mixed Level Pilates Class.

Not for absolute Pilates beginners but fine if you've attended 2-3 classes and are familiar with the basics.

PRICE:

€16 Drop-in
Covered by Unlimited Passes and Class Packs.




Interval training based on ballet principals aimed to increase strength and raise the heart rate. Improve flexibility with this whole body workout (although we know most of you absolutely love the class for toning and skulpting your butt and legs).