Steve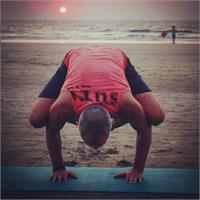 Steve had been practicing Yoga for a number of years and decided to spend a month in India and complete a 200hour teacher training course in Sampoorna Yoga School in Agonda, Goa in January 2016.
This was one of the best decisions Steve ever made and being immersed in Yoga every day was a perfect way to spend a month. The weather and the beach was nice too.
Steve mainly studied Ashtanga and Vinyasa flow spending time on Alignment Anatomy and philosophy too.
On Steve's return he developed a strong hour long flow which builds to a peak and gradually eases into a relaxing finish.
Steve kept up his teaching practice with family and friends since his return and teaches a Vinyasa class in the Trinity College Gym on Tuesday evenings, a lunch time class with Probabtion officers in Mount Joy Prison on Thursday afternoons occasional cover classes in The Elbow Room and has a number of private clients.
Steve is currently not instructing any classes.