Leanne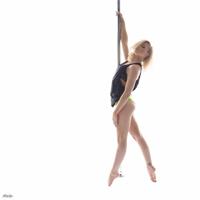 Leanne started pole dancing around five years ago. Initially she took it up as a way to have a bit of random fitness fun as well as doing something for herself by herself./ She immediately loved it but took a break to live abroad and finish studying. When she came back to pole she realized that for her it would be best to go to class more than once a week, so she went looking for other studios and classes. This is when things became serious for her! She began working hard on her strength and flexibility, taking as many classes as she could, focusing on being a better poler.
Somehow she worked up the courage to compete in Pole Princess Ireland 2013. This competition is perfect for anyone looking to compete for the first time – and Leanne won in the Intermediate Category! She quickly found her own style, performed in The George and at charity events, for music videos, with live bands, filming show reels and photo shoots. She went on to compete in Pole Theatre Ireland 2014, and UKAPP 2014 (where she won the title of Semi-Pro Champion – still one of her favorite routines!), and Pole Theatre Ireland 2015 (where she won the Professional Drama category).
Competitions have always given her something to work towards, but when she started teaching she began loving pole in a whole new way. Being able to pass on any knowledge that she has is amazing to her, and she found herself growing and improving in ways that she hadn't done as a student. She took the Xpert Instructor Training Course which had a huge impact on the way she perceived instructing for pole. For her now pole is definitely about instructing others as much as training herself.
Her personal style of pole has been described as "pretty-freaky" – she
definitely like to create characters and use her flexibility to make things quite weird! But she loves strength moves too, and a balance of both is what she am working towards. There is so much strength in flexibility anyway, and so much beauty in all styles of pole dance that she would never want to limit myself to any one or two ways of moving.
When Leanne is not pole dancing she's usually thinking about pole, or talking about it. Or saving photos and videos to try later. She also loves to read and watch films – she's actually a huge nerd and can often be found reading a book while waiting for a movie to start! She's a big pole nerd too, she usually knows who did what is which competition and what song they used too. Pole has really changed her life – before she took it up she was incredibly unhealthy and extremely underweight. All of that has changed, and on the way she has met many incredible people, and learnt a lot about herself and others. Leanne hopes it can do amazing things for you too.
Leanne is currently not instructing any classes.