Kate L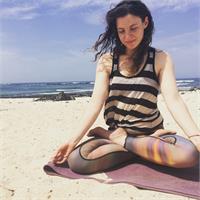 Kate started practicing yoga in 2006 and was immediately drawn to the strength and dynamism of the Ashtanga Vinyasa System in the lineage of Sri Pattabhi Jois.
In 2012 Kate began to practice under the guidance of David Curtis, completing Vinyasa Yoga Teacher Training over a two year period in 2015, and with whom she continues to study Shadow Yoga.
Establishing a regular yoga practice has had a profound effect on Kate's life both physically and mentally. She feels privileged to have had the opportunity to develop her practice under the expert guidance of her teachers, and aspires to share the many benefits of yoga with others.
Kate L is currently not instructing any classes.