Amy-Louise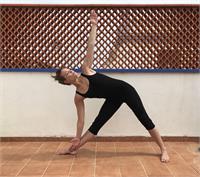 Amy's approach to Yoga is to incorporate a dynamic, grounded and nurturing style of teaching. Her practice focuses on building strength and flexibility whilst creating a meditative flow through asana with emphasis on breath and alignment.
A firm believer in practicing what she teaches, Amy continues to seek the advice of great teachers to expand her knowledge, deepen her own practice and pass this on to others. She believes in exploring life and using yoga as a means of re-connecting to the truth present within us all.
Her classes are designed to offer a space for exploration and connection with the body, mind and soul.
Amy-Louise is currently not instructing any classes.