Benjamin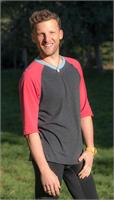 Benjamin is a Texas-Born World-Resident with a life-long relationship to Movement and Energy. A student of theatre, dance, and gymnastics since the age of four, he enjoyed early employment as an Afterschool Caregiver, Summer Daycamp Educator, Swim Instructor & Lifeguard, and Theater Director.
His yoga teaching practice initially blossomed in the sand and sun of Barcelona after being a 7-year student in Los Angeles & New York City. Benjamin earned his RYT 200hr Yoga Teacher certificate in Dallas and came directly to Paris following Love and Life's Adventures. He has since gained additional Reiki Level One Initiation, as well as 300hr, Kids, and Partner Yoga Certifications through the family of Rainbow Yoga Trainings.
Benjamin truly believes that yoga is an opportunity to unite with the Divine elements of ourselves and each other through joy-filled concentration. Laughter, amusement, and affirmation are all powerful ways of being present and are qualities that Benjamin aims to include whenever teaching both children and adults. Playing together as we exercise the Spirit, Mind, and Body to function in harmony is an incredible gift that we give ourselves. It is such an honour to be part of a tribe who treasures that Light which shines every one of us!
Benjamin is currently not instructing any classes.