Gemma Rose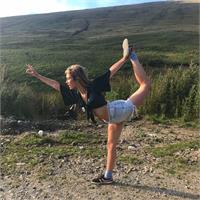 Gemma-Rose first discovered yoga while living in New York City. The first style she practiced was 'Bikram Yoga' which she dedicated herself to for many months. As her passion for yoga grew, so too did her desire to experience a broader range of styles. She eventually found vinyasa yoga in Dublin which immediately resonated with her on a deep level, especially during self practice.
Having experienced the incredible benefits of yoga and the life changing impact it had on her life, she became deeply motivated to become a yoga teacher so she could pass on these good feelings to those around her through this ancient tradition. She decided to take some time away from her career as a designer and flew to Rishikesh, India where she completed her first formal yoga training. She received 200hrs YTT in Hatha Vinyasa and Ashtanga Vinyasa in 2016.
Upon returning to Ireland, she set up her own weekly classes called FLOK, her own flock of yogis. which is a nod to her keen love of animals, particularly winged ones. Gemma-Rose continues to develop her knowledge of yoga, both as a practitioner and as a teacher. Her attitude towards yoga is always the same - "My intention is to help people feel good about themselves."
Gemma Rose instructs the following:
Our hot classes go up 34 degrees, enough to experience all the benefits of a hot yoga class without being overly intense. Within this class the postures are linked in a seamless manner, creating a natural flow of movement linked with breath. Flow will provide cardiovascular benefits, as well as muscle-strengthening and stamina-building. Each class will offer different content that challenges you mentally and physically.