Ana F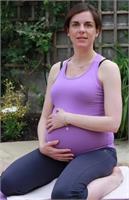 Ana got into Yoga over 15 years ago as a way to recover her flexibility as she used to be an international gymnast in her youth. Then she discovered that yoga goes much deeper than just flexibility so her journey began.
Ana completed her 200 hour Vinyasa Flow training with David Curtis followed by her Level 2 Vinyasa Flow Teacher Training. Her yoga practice brought perspective and calmness to her life and she wanted to bring that to other parts of her life too.
When she got pregnant she became a Yoga Alliance and Sitaram Certified Instructor in Pregnancy Yoga training with Uma Dinsmore-Tuli.
After experiencing the benefits of yoga in her life before, during and after pregnancy and labour, she was determined to ensure her kids would get into yoga earlier in life. Ana completed her Rainbow Kids and Family Teacher Training.
Teaching kids and family yoga has been a joy! Kids are such amazing teachers and they keep you on your toes!
She loves bringing aspects of her pregnancy, kids and family yoga into her vinyasa classes to make them fun and different!
I will always be a student of the practice and am deeply grateful for the loving wisdom my teachers have shared with me.
Ana F is currently not instructing any classes.