Samantha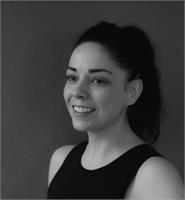 Sam is lover of movement. She's a yoga teacher, a rock climber, a cyclist and a bootcamp enthusiast. Her lifestyle supports energy, balance and grounding, she incorporates these elements into her Vinyasa classes.

She is genuine, approachable and inspired by her love of movement.
Her classes are challenging, dynamic and showcase her high energy but also explores restoring and meditation.

Trained in Yandara yoga school in Mexico and has a 8 years yoga practice.
Samantha instructs the following:
This class is for you, if you are……
……….ready or curious to MOVE BEYOND LEVEL 1 or have PREVIOUS YOGA EXPERIENCE.

Level 1-2 is designed to take you deeper into your practice by introducing asanas which will challenge you equally on strength & flexibility, so you can discover true harmony in body & mind.

Each class combines a dynamic vinyasa practice with meditation, hands-on alignment, basic yoga philosophy, deep relaxation…and some good sounds!

As we suggest more challenging variations as your practice develops, this is a great place for you to laugh, play and grow in your own time.




Suitable for beginners and for those with some yoga experience




Within this workshop there is a strong emphasis on fun, movement and variety. We will also spend time on yoga inversions and acrobatic movements.




Working on a wide range of exercises designed to progress flexibility, strength, endurance, alignment and balance. Headstand, forearm stand, and crow variations will also be worked on, but the focus will be handstand.




We will work in pairs to spot each other and against the wall to develop a confident and controlled entry into and out of the handstand.




The class is enjoyable and interactive, there is plenty of opportunity to work in pairs and meet new people. Many people find the journey towards handstand very addictive.




Gain knowledge of your own biomechanics to learn how to feel lighter, stronger and turn your world upside-down in a fun and playful way.




Open to all levels of experience.




€30*

*10% Discount for Yoga Dublin Monthly Members




NEW EARLY MORNING CLASSES

Start your day in an energizing way with an earlybird yoga class. Ensuring that you start your day with a spring in your step.

The class will be challenging but she promises not too brutal! So whether you want to stretch before work, or just start your day early with a strong class, come along.

Level 1-2 class - not for complete beginners.

PRICES: