Samantha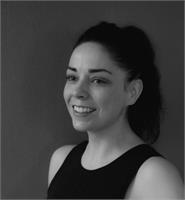 Sam is lover of movement. She's a yoga teacher, a rock climber, a cyclist and a gymnastics enthusiast. Her lifestyle supports energy, balance and grounding, she incorporates these elements into her Vinyasa Ashtanga Restorative and Yin classes.
She is genuine, approachable and inspired by her love of movement.
Her classes are challenging, dynamic and showcase her high energy but also explores restoring and meditation.
In 2014 Sam completed her 200hr Yoga teacher training certification from Yandara in Mexico. She has continued to add to this with courses and workshops in a variety of a Yoga styles. Also completing advanced Anatomy teacher training. She has an 11 year yoga practice and believe that yoga is a journey not a destination.
Samantha instructs the following:
Level 1-2 classes are for those with some experience of yoga – intermediate and more challenging poses are introduced but variations and modifications will be offered. If you are looking to move beyond your level 1 class, this is for you!

Prices:
Single Class €16
Included in Unlimited Class Passes/ Class Packs
http://yogadublin.com/class-prices




Our hot classes go up 34 degrees, enough to experience all the benefits of a hot yoga class without being overly intense. Within this class the postures are linked in a seamless manner, creating a natural flow of movement linked with breath. Flow will provide cardiovascular benefits, as well as muscle-strengthening and stamina-building. Each class will offer different content that challenges you mentally and physically.




Though still a heated class, we drop the temperature to 28 degrees in this class to allow for beginners or those new to Hot Yoga to become accustomed to the heat. This is a good choice for beginners or if you like a slower class. Yoga 1 is a slower-paced flow class geared towards those new to yoga or preferring a slightly gentler class. Time is spent breaking down sun salutations and other poses fundamental to a Yoga practice. Props and modifications offered for proper alignment and ease in the postures. The teacher will guide you through a unique combination of standing and floor postures that will challenge balance, strength and flexibility.




NEW EARLY MORNING CLASSES

Start your day in an energizing way with an earlybird yoga class. Ensuring that you start your day with a spring in your step.

The class will be challenging but she promises not too brutal! So whether you want to stretch before work, or just start your day early with a strong class, come along.

Level 1-2 class - not for complete beginners.

PRICES:




Learn to balance and fly high during this fun and invigorating Inversion Workshop
with Samantha Lee Doyle
During this workshop we will begin with a vinyasa flow practice to warm up the body
in a systematic way, preparing the body for poses such as sirsasana (headstand),
pincha mayurasana (forearm stand) and adho mukha vrksasana (handstand). Many
preparatory poses and variations will be explored to strengthen the body, find proper
alignment and build confidence for your inversion practice.
This will be a strong, yet light-hearted workshop to help you feel the power of flipping
upside down and choosing to see the world from a new perspective – one filled with
strength, lightness and fun!
All levels are welcome, as various layers of inversions will be explored allowing you
to practice the many stages of inversions that feel best for your practice.

€30 for one or €100 for all 4 workshops with Sam.




Advance and refine your practice.




Our most advanced and playful class is a sixty-minute deep practice for teachers and students.

This is a dynamic and supportive environment to explore alignment and the more subtle aspects of the postures. This class emphasizes awareness and mindfulness and will challenge you both physically and mentally.

This advanced class is for students and teachers who have a regular and strong practice.

Not for beginners.




Discover the benefits of this powerful style of yoga that is gentle yet empowering.

Whether you are looking to de-stress, energize, or find balance, restorative yoga can be an effective way to reach your goals for wellness.

Restorative yoga is a simple, safe, effective, non-invasive form of yoga that anybody can practice.

Suitable for beginners through to advanced yoga practitioners and yoga teachers.

Restorative yoga provides us with a gentle practice to help us relax, regenerate and renew. It complements any other forms of exercise we may be engaged in including any forms of yoga.