Sophie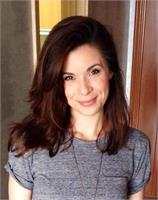 Six years ago Sophie moved to China, she was living in a huge city that was busy, loud and stressful. After a couple of weeks she found yoga and her mat quickly became her happy place and an escape from the craziness of everyday life in China. She soon became hooked and has been on her journey ever since and is loving being able to share her practice. Sophie's favourite thing about yoga is that there is no pressure, no judgement, no expectations: it gives us the space to be ourselves, perfect just the way we are.

Sophie pays great attention to safety and alignment principles in her classes but she take a light-hearted approach and creates a warm and friendly atmosphere where we're all in it together. She always says that we should use the pose to get into the body, not the body to get into the pose and that there is no 'one size fits all' when it comes to yoga. She encourages people to tune into their bodies, find their own pace and feel what's right for them. Expect lots of fun transitions, dynamic flows with variations to suit everybody and loads of love from hands-on assists.
She brings her passion and love for teaching to every class and loves teaching a fast-paced Vinyasa Flow class just as much as a gentle and juicy Restorative class, and a bit of everything in between. Her hope is that you leave feeling strong, happy and nourished both inside and out!
Sophie is currently not instructing any classes.