Jess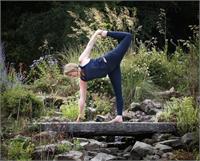 Yogajess's journey was born out of work related stress and back pain! She was working in a stressful job and noticed that after sitting at her desk for 3 to 4 hours without moving, her back would really start to hurt. So she found a Vinyasa yoga class near to her work and started going…(religiously) ….every Monday. She was hooked!
She started to REALLY get stressed in work which was taking over in her downtime as well and noticed that during yoga practice her concentration and breathing were so focused and calm she would forget about work and her mind felt peaceful and spacious. The anxious feeling disappeared.
Jess decided she wanted to learn more about the practice, have it as part of her everyday life and to introduce other people to yoga. She trained to become a teacher and completed her YTT 200hrs under the tutelage of Sibylle Dalmain and Naomi Sturdy at Yoga Dublin.
She soon realised that while a lot of people knew about yoga and wanted to try it, there was a feeling of fear and intimidation to go to the first classes. Her goal is to take those fears away. You can expect to be pushed and to have a sense of achievement in Jess's class, feel calm and relaxed but still have fun and a laugh. At the end of the day, we all need to stretch, strengthen, laugh and bring a bit of zen into our hectic lives.
Jess instructs the following:
A introductory class teaching foundation and basic poses. Open to new students and accessible for those who've never done yoga before. Join others at the intro level and build confidence to move into other Yoga 1 classes. All welcome!




Level 2 classes are designed to take you deeper into your practice by introducing asanas which will challenge you equally on strength & flexibility, so you can discover true harmony in body & mind.


Each class combines a dynamic asana practice with meditation, hands-on alignment, basic yoga philosophy, deep relaxation…and some good sounds!

As we suggest more challenging variations as your practice develops, this is a great place for you to laugh, play and grow in your own time.

Not suitable for beginners.




Suitable for all levels, but those new to yoga should start with beginners flow. This 75 minute class is designed to build heat and strength. This practice is a total body workout that creates longer, leaner muscles and body with more mobility to improve circulation. We recommend that students seeking to take these classes feel confident, safe and strong throughout classic sun salutations.




Level 1-2 classes are for those with some experience of yoga – intermediate and more challenging poses are introduced but variations and modifications will be offered. If you are looking to move beyond your level 1 class, this is for you!

Prices:
Single Class €16
Included in Unlimited Class Passes/ Class Packs
http://yogadublin.com/class-prices




Discover the benefits of this powerful style of yoga that is gentle yet empowering.

Whether you are looking to de-stress, energize, or find balance, restorative yoga can be an effective way to reach your goals for wellness.

Restorative yoga is a simple, safe, effective, non-invasive form of yoga that anybody can practice.

Suitable for beginners through to advanced yoga practitioners and yoga teachers.

Restorative yoga provides us with a gentle practice to help us relax, regenerate and renew. It complements any other forms of exercise we may be engaged in including any forms of yoga.




Our hot classes go up 34 degrees, enough to experience all the benefits of a hot yoga class without being overly intense. Within this class the postures are linked in a seamless manner, creating a natural flow of movement linked with breath. Flow will provide cardiovascular benefits, as well as muscle-strengthening and stamina-building. Each class will offer different content that challenges you mentally and physically.




Though still a heated class, we drop the temperature to 28 degrees in this class to allow for beginners or those new to Hot Yoga to become accustomed to the heat. This is a good choice for beginners or if you like a slower class. Yoga 1 is a slower-paced flow class geared towards those new to yoga or preferring a slightly gentler class. Time is spent breaking down sun salutations and other poses fundamental to a Yoga practice. Props and modifications offered for proper alignment and ease in the postures. The teacher will guide you through a unique combination of standing and floor postures that will challenge balance, strength and flexibility.