Jess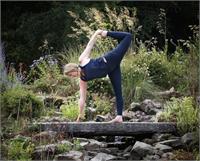 Yogajess's journey was born out of work related stress and back pain! She was working in a stressful job and noticed that after sitting at her desk for 3 to 4 hours without moving, her back would really start to hurt. So she found a Vinyasa yoga class near to her work and started going…(religiously) ….every Monday. She was hooked!
She started to REALLY get stressed in work which was taking over in her downtime as well and noticed that during yoga practice her concentration and breathing were so focused and calm she would forget about work and her mind felt peaceful and spacious. The anxious feeling disappeared.
Jess decided she wanted to learn more about the practice, have it as part of her everyday life and to introduce other people to yoga. She trained to become a teacher and completed her YTT 200hrs under the tutelage of Sibylle Dalmain and Naomi Sturdy at Yoga Dublin.
She soon realised that while a lot of people knew about yoga and wanted to try it, there was a feeling of fear and intimidation to go to the first classes. Her goal is to take those fears away. You can expect to be pushed and to have a sense of achievement in Jess's class, feel calm and relaxed but still have fun and a laugh. At the end of the day, we all need to stretch, strengthen, laugh and bring a bit of zen into our hectic lives.
Jess instructs the following:
Suitable for beginners and for those with some yoga experience




LEVEL 2 Vinyasa classes explore complex movements and sequences including arm balances and inversions layered over solid foundations. These classes may incorporate deeper backbends, hip opening, twists, and forward folds. The teacher will encourage rest periods and offer modifications as needed.

Not recommended for beginners.




PRICES:

Single class €18
Included in class packs/ unlimited class passes




Start your day in an energizing way with an earlybird vinyasa yoga class. Ensuring that you start your day with a spring in your step.

The class will be challenging but she promises not too brutal! So whether you want to stretch before work, or just start your day early with a strong class, come along.

Intermediate Level class - not for beginners.