Hannah R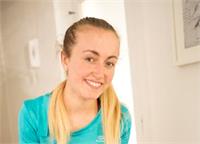 Sports Massage Therapist/ Swedish Masseuse/ Pilates Mat Work/ Pilates Ballet Barre/ Pilates Bone Health/ Pilates Group Classes/ Corporate Pilates
Johanna comes from a background of Anatomy & physiology, Tango and the love of both wholesome movement and food. Johanna's main concern is that people work within their specific limits and really understand how to use their bodies to improve range of motion where necessary and eliminate pain for good.
"Every single person is different so no two treatments will ever be exactly the same".
Johanna's Mission: To give you experience of taking control of your body, preventing injury, creating good posture and strengthening from the core for long lasting results.
Johanna specialises in Pilates with a focus on realignment and strength.
Hannah R is currently not instructing any classes.