Niamh P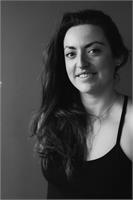 Niamh is an avid yogi! She first started practicing yoga in 2011 but rediscovered her love for yoga in 2014 while living and working in New York. Yoga allowed her to switch off from the hustle and bustle that was New York. After two years of traveling and working abroad Niamh returned home to the Emerald Isle and completed her 200hrs RYT Training under the guidance of Sibylle Dallmann and Naomi Sturdy at Yoga Dublin.
Niamh has an invested interest in Human and Women's Rights. She is passionate about making the world a more peaceful place, and feels that yoga and meditation are important factors in achieving that goal.
Niamh's classes are based on the belief that mental and physical health is interrelated and should be conditioned together. Her classes focus on all aspects of yoga, pranayama and Meditation. Join Niamh for some Hatha, Vinyasa and Restorative based Classes!
Niamh P instructs the following:
Gear up for your weekend with this dynamic, kick-asana class for the true power yoga junkie. You've worked hard all week. Continue to work hard in an hour long class with Aisling!

A strong and dynamic yoga class for those with some previous experience (not for beginners)!

Entering Savasana after an arduous class, especially following a tough week, can be healing in so many ways.

Perfect way to end your week!

PRICE:

€16 per class
Included in Unlimited Class Passes/ Class Packs




Level 1-2 classes are for those with some experience of yoga – intermediate and more challenging poses are introduced but variations and modifications will be offered. If you are looking to move beyond your level 1 class, this is for you!

Prices:
Single Class €16
Included in Unlimited Class Passes/ Class Packs
http://yogadublin.com/class-prices




POP UP YOGA CLASS

In this class we adapt the Yoga exercises to you. Not the other way around. Doesn't matter your age or your level of fitness. Doesn't matter your shape or weight. We make Yoga accessible to everybody! You will feel comfortable and welcomed, even if you feel too stiff or too unfit, even if you have never tried before. We will help you to make peace with yourself and your body and feel ok just being you! From that starting point of acceptance of your present state of fitness, flexibility, strength and relaxation, you will be able to grow week by week, class by class. You will be able to: Get more flexible and supple. Improve general strength and stamina coupled with mental relaxation. Improve your posture and alignment to feel and look more healthy and confident and to avoid pain and injuries. Feel at home in your own body. More comfortable, more at easy. Learn to relax and release stress efficiently. Improve concentration and focus.




A pop up class for the bank holiday!

Yoga 2 is an intermediate level class. A good experience level of Yoga is necessary.




POP UP CLASS over the Bank Holiday (not part of the regular weekly schedule)Suitable for those who are new to Yoga or for those with some experience.€16 Drop In




Join us for some pop up Hot Yoga this bank holiday weekend!