Niamh P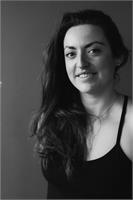 Niamh is an avid yogi! She first started practicing yoga in 2011 but rediscovered her love for yoga in 2014 while living and working in New York. Yoga allowed her to switch off from the hustle and bustle that was New York. After two years of traveling and working abroad Niamh returned home to the Emerald Isle and completed her 200hrs RYT Training under the guidance of Sibylle Dallmann and Naomi Sturdy at Yoga Dublin.
Niamh has an invested interest in Human and Women's Rights. She is passionate about making the world a more peaceful place, and feels that yoga and meditation are important factors in achieving that goal.
Niamh's classes are based on the belief that mental and physical health is interrelated and should be conditioned together. Her classes focus on all aspects of yoga, pranayama and Meditation. Join Niamh for some Hatha, Vinyasa and Restorative based Classes!
Niamh P instructs the following:
Suitable for all levels, but those new to yoga should start with beginners flow. This 75 minute class is designed to build heat and strength. This practice is a total body workout that creates longer, leaner muscles and body with more mobility to improve circulation. We recommend that students seeking to take these classes feel confident, safe and strong throughout classic sun salutations.




A perfect opportunity to get a class in after the school run! This mixed level class is open to everyone - there will always be options given if you wish to take it slower or challenge yourself.




Start your day in an energizing way with an earlybird vinyasa yoga class. Ensuring that you start your day with a spring in your step.

The class will be challenging but she promises not too brutal! So whether you want to stretch before work, or just start your day early with a strong class, come along.

Intermediate Level class - not for beginners.




Level 1-2 classes are for those with some experience of yoga – intermediate and more challenging poses are introduced but variations and modifications will be offered. If you are looking to move beyond your level 1 class, this is for you!

Prices:
Single Class €16
Included in Unlimited Class Passes/ Class Packs
http://yogadublin.com/class-prices




Gentle Yoga Flow is a unique sequence of movements and postures which flow together creating heat in the body as well as peace of mind. This is slightly stronger than a Gentle Yoga Class with more movement. It is particularly suitable to those seeking to improve their strength, flexibility, health and general well-being.




Level 2 classes are designed to take you deeper into your practice by introducing asanas which will challenge you equally on strength & flexibility, so you can discover true harmony in body & mind.


Each class combines a dynamic asana practice with meditation, hands-on alignment, basic yoga philosophy, deep relaxation…and some good sounds!

As we suggest more challenging variations as your practice develops, this is a great place for you to laugh, play and grow in your own time.

Not suitable for beginners.




A introductory class teaching foundation and basic poses. Open to new students and accessible for those who've never done yoga before. Join others at the intro level and build confidence to move into other Yoga 1 classes. All welcome!