Brian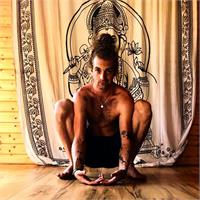 Brian is a yoga and breath-work teacher based in Dublin. He took his teacher training in Goa, India, studying extensively the lineages of Hatha, Vinyasa, Ashtanga, Iyengar and Therapeutic yoga. His yoga classes are breath focused and based on alignment and conscious movement, while also encouraging students to intuitively explore the uniqueness of their own bodies and practice, focusing on the sensations not the shapes. He also teaches breathwork classes, where the focus is on developing a deeper relationship to the breath and connecting to its natural power as a tool for healing, transformation and relaxation. Brian believes that by consciously and compassionately connecting with the body and breath, they can begin to act as an anchor into the present, creating greater clarity and awareness, and allowing access to a simpler flow of life.
Brian instructs the following:
Advance and refine your practice.




Our most advanced and playful class is a sixty-minute deep practice for teachers and students.

This is a dynamic and supportive environment to explore alignment and the more subtle aspects of the postures. This class emphasizes awareness and mindfulness and will challenge you both physically and mentally.

This advanced class is for students and teachers who have a regular and strong practice.

Not for beginners.




Discover the benefits of this powerful style of yoga that is gentle yet empowering.

Whether you are looking to de-stress, energize, or find balance, restorative yoga can be an effective way to reach your goals for wellness.

Restorative yoga is a simple, safe, effective, non-invasive form of yoga that anybody can practice.

Suitable for beginners through to advanced yoga practitioners and yoga teachers.

Restorative yoga provides us with a gentle practice to help us relax, regenerate and renew. It complements any other forms of exercise we may be engaged in including any forms of yoga.