Anna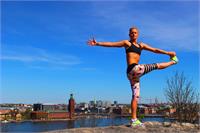 Anna's yoga journey started out with lots of intensity and heat, completing her first teacher training with Bikram Choudhury in LA in 2012. What initially attracted her to the practice was its transformational effects on her busy monkey mind, and the mental benefits remain the number one reason why she comes to the mat. The rest – strength/flexibility/improved energy levels/injury prevention etc etc – are just really nice side effects!
She has taught on a fulltime basis for the past 5 years, branching out in styles and getting particularly hooked on Ashtanga yoga. She completed her 200 hours Ashtanga Vinyasa Training with It's Yoga Nicaragua in 2015 and is currently working to build up to her 500h certification with It's Yoga Fuerteventura, specializing in Rocket Yoga which has its roots in Ashtanga but with an added playfulness!
As much as she loves a strong asana practice, she also takes an interest in Buddhist meditation, Vipassana and Yoga Nidra and facilitates workshops in the latter since completing her Yoga Nidra Teacher Training Course with Nirlipta Tuli & Uma Dinsmore-Tuli of Wombyoga in the summer of 2017. Anna recently made her first trip to Mysore, India, where she spent a month practicing the dynamic Prana Vashya yoga with Yogacharya Vinay Kumar. She draws her inspiration to teach from her own personal practice and passion for the yoga and believes that constant learning and immersion in various types and styles and practices with different teachers is key.
Teaching means sharing what we know; inspiring others to reach their full potential and holding a safe and secure space for students within which the magic of self-realization through yoga can take place.
Anna instructs the following:
Suitable for all levels, but those new to yoga should start with beginners flow. This 75 minute class is designed to build heat and strength. This practice is a total body workout that creates longer, leaner muscles and body with more mobility to improve circulation. We recommend that students seeking to take these classes feel confident, safe and strong throughout classic sun salutations.




Our hot classes go up 34 degrees, enough to experience all the benefits of a hot yoga class without being overly intense. Within this class the postures are linked in a seamless manner, creating a natural flow of movement linked with breath. Flow will provide cardiovascular benefits, as well as muscle-strengthening and stamina-building. Each class will offer different content that challenges you mentally and physically.




Though still a heated class, we drop the temperature to 28 degrees in this class to allow for beginners or those new to Hot Yoga to become accustomed to the heat. This is a good choice for beginners or if you like a slower class. Yoga 1 is a slower-paced flow class geared towards those new to yoga or preferring a slightly gentler class. Time is spent breaking down sun salutations and other poses fundamental to a Yoga practice. Props and modifications offered for proper alignment and ease in the postures. The teacher will guide you through a unique combination of standing and floor postures that will challenge balance, strength and flexibility.




A creative mix of Hatha Yoga and mindful meditation leaving you feeling balanced, relaxed and lighter. This is a gentle flow yoga 1 class which is perfect for beginners, golden oldies, or people wanting to challenge themselves to slow down their practice. Some mindful meditation techniques are incorporated in to ease you into the week ahead in the most relaxing way!




Level 2 classes are designed to take you deeper into your practice by introducing asanas which will challenge you equally on strength & flexibility, so you can discover true harmony in body & mind.


Each class combines a dynamic asana practice with meditation, hands-on alignment, basic yoga philosophy, deep relaxation…and some good sounds!

As we suggest more challenging variations as your practice develops, this is a great place for you to laugh, play and grow in your own time.

Not suitable for beginners.