Anna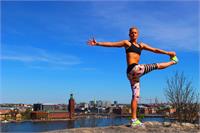 Anna's yoga journey started out with lots of intensity and heat, completing her first teacher training with Bikram Choudhury in LA in 2012. What initially attracted her to the practice was its transformational effects on her busy monkey mind, and the mental benefits remain the number one reason why she comes to the mat. The rest – strength/flexibility/improved energy levels/injury prevention etc etc – are just really nice side effects!
She has taught on a fulltime basis for the past 5 years, branching out in styles and getting particularly hooked on Ashtanga yoga. She completed her 200 hours Ashtanga Vinyasa Training with It's Yoga Nicaragua in 2015 and is currently working to build up to her 500h certification with It's Yoga Fuerteventura, specializing in Rocket Yoga which has its roots in Ashtanga but with an added playfulness!
As much as she loves a strong asana practice, she also takes an interest in Buddhist meditation, Vipassana and Yoga Nidra and facilitates workshops in the latter since completing her Yoga Nidra Teacher Training Course with Nirlipta Tuli & Uma Dinsmore-Tuli of Wombyoga in the summer of 2017. Anna recently made her first trip to Mysore, India, where she spent a month practicing the dynamic Prana Vashya yoga with Yogacharya Vinay Kumar. She draws her inspiration to teach from her own personal practice and passion for the yoga and believes that constant learning and immersion in various types and styles and practices with different teachers is key.
Teaching means sharing what we know; inspiring others to reach their full potential and holding a safe and secure space for students within which the magic of self-realization through yoga can take place.
Anna is currently not instructing any classes.