Karen D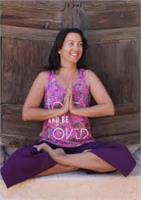 Karen got her first taste of yoga as a child, practicing at home with her Mum and the cat! Though it wasn't until 2011 that she started taking classes regularly, and finally got hooked. She has been practicing at Yoga Dublin Studios since then under the guidance of Dave Curtis, Caroline Downey and Sibylle Dallmann. She recently took the leap to leave her software development career of 15 years, to dedicate herself to teaching yoga full-time.
She completed her 200 hour training between September 2014 and April 2015 with Ciara Cronin and Eithne Kennedy at The Yoga Room. She teaches a flowing vinyasa style, connecting breath to movement, and with an emphasis on alignment. She also incorporates meditation, yin and restorative yoga.
She believes that yoga is for everyone, no matter what age or fitness, and encourages acceptance of where you are rather than focusing on goals. Her classes are strong and challenging, but with an element of light-heartedness and fun, helping students to increase their confidence, discover their potential and most importantly to be happy and healthy.
Check out her page at www.fb.com/karendyoga
Karen D is currently not instructing any classes.