Dagmara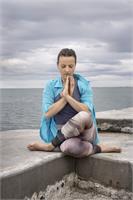 Dagmara is a certified Hatha Yoga & Pilates teacher and a contemporary dance artist. After receiving a BA (hons) degree in contemporary dance in 2012 she moved to Dublin, where she's been working as a performer, choreographer, and dance teacher.
While working in the creative industry which can be very demanding and requires a lot of energy and effort, Dagmara discovered Yoga and meditation which allowed her to find more work-life balance. At first it allowed her to find some quiet space within the mind and gradually she discovered that daily yoga and meditation practice helped with overcoming daily stress. It also allowed for coming back to the present moment and it brought more joy to everyday life.
Dagmara teaches variety of movement based classes and workshops in contemporary dance, Hatha Yoga, Pilates and mindful movement. Dagmara draws from her vast experience to create unique classes that blend movement, breath and body-mind connection. Her focus is on alignment that supports healthy body, working within the limitations of our bodies and encouraging opening up of restricted spaces within the body in a kind and supportive environment. Dagmara's classes are creative, challenging and fun, sprinkled with flowing breath and sense of freedom within the mind and body.
Dagmara instructs the following:
Our Ballet Barre Workout combines ballet inspired postures with elements from yoga and Pilates. The barre is used as a prop to balance while doing exercises that focus on isometric strength training (holding your body still while you contract a specific set of muscles) combined with high reps of small range-of-motion movements. Benefits include improved posture, coordination and flexibility while toning your arms, stomach, hips, thighs and glutes.

Who's this class suitable for?

Those with previous Yoga or Pilates experience.

Postnatal: It is recommended that you don't take up Ballet Barre classes until 12 weeks after the birth.

This class is not recommended for those who suffer from any type of knee issues.


Prices for Ballet Barre:

€16 per class

€90 for a pack of 6 classes

Included in Introductory Offer/ Monthly Membership




Level 2 classes are designed to take you deeper into your practice by introducing asanas which will challenge you equally on strength & flexibility, so you can discover true harmony in body & mind.


Each class combines a dynamic asana practice with meditation, hands-on alignment, basic yoga philosophy, deep relaxation…and some good sounds!

As we suggest more challenging variations as your practice develops, this is a great place for you to laugh, play and grow in your own time.

Not suitable for beginners.

Price:

Single Class €16
Included in Unlimited Class Pass/ Class Packs




Suitable for beginners and for those with some yoga experience




PRE-BOOKING ESSENTIAL

Start your day in an energizing way with an earlybird yoga class from 7-8am. This class will ensure that you start your day with a spring in your step.

The class will be vinyasa flow, suitable for beginners or those looking for a yoga class to start their day! So whether you want to stretch before work, or just start your day early with a nice class, come along.