Dagmara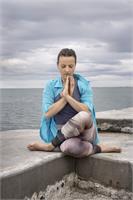 Originally from Poland, Dagmara began her journey in 2001 initially by learning contemporary dance, contact improvisation and Hatha Yoga. Between 2008-2012 she undertook an intense and dedicated four year full-time training at the Scottish School of Contemporary Dance, where in 2012 she was awarded a BA (hons) degree. Since then she's worked as a performer, choreographer and teacher. As a choreographer her experience includes working in sites specific projects, film, theatre and socially engaged contexts. Alongside Dagmara's performance and choreography she's been developing her Yoga and meditation practice. Her initial experience with meditation was through a self-guided eight week course based on a well known book "Mindfulness: A practical guide to finding peace in a frantic world". She then attended a number of courses and retreats through the Dublin Buddhist Centre. Since 2016 Dagmara has been practising meditation with mantra under the guidance of her teacher Joanna Kondratowicz.
Dagmara works under her company name Dagda Movement sharing her passion, knowledge and experience in various forms of movement, body work, breathing and meditation.
dagdamovement.com
Dagmara is currently not instructing any classes.