Alba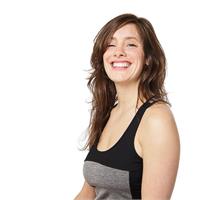 Alba has been teaching the Pilates method for the last 8 years.

Pilates was originally developed as a somatic form (proprioceptive awareness) of physical fitness conditioning in the early 1920s. Joseph Pilates emphasized the somatic principles of mind-body connection, tracking of proprioceptive observations, and attention to breathe. He believed that mental and physical health were essential to one another. Pilates uses correct alignment, centering, concentration, control, precision, breathing and flowing movement to establish a perfect working body from the inside out.

Pilates classes are designed to build a balanced body by accentuating on lengthening and aligning your body, rather than on bulking and shortening the muscles. The root of this practice is base on the core or 'powerhouse' of your body. The essential intrinsic core muscles are your Transverse Abdominus, Pelvic Floor and Multifidus muscles which we learn to train as part of the Pilates method and from where the inside out approach rise.

After her practice in Asthanga vingasa Yoga for several years, Alba heard about Pilates from a physiotherapist friend. She got hooked immediately by the Pilates principles. Like yoga, Pilates focuses on breath and movement, but emphasizes concentration rather than meditation. J. Pilates combined elements of yoga with athletic conditioning to create the exercise method that bears his name.
Alba is a qualified Pilates teacher in matwork and machine techniques from FitPilates, Madrid, Spain. She also belongs to the performing arts field. As an active artist she combines this activity with her teaching work. She graduated in Dramatic Art as well as Contemporary Dance.

Alba complemented her professional training in the field of the psychology, studying Gestalt therapy. She believes that she is part of a unified whole so all these disciplines embody who she is as a person so as a teacher.
Her Pilates mat classes are designed to promote dynamic movement in the body utilizing breath, core strength, release unnecessary tension, alignment and develop inner awareness. And also, make students aware of their patterns of movement so that they can all identify them and develop their intelligence of the now. The classes are designed for participants that are injury free. If you have any concerns a private session is highly recommended to assess the issue and make you able to join the class securely.
''Change happens through movement and movement heals´´_Joseph Pilates
Alba is currently not instructing any classes.