Lisa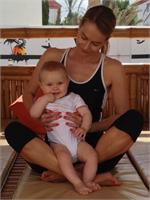 Lisa began practising yoga 15 years ago and has been working with children and families for 20 years. She is a qualified trust in birth pre and post natal yoga teacher through the Elbow Room, Dublin (Yoga Alliance Registered), a 200hr RYT and a kids yoga teacher trained by Rainbowkids Yoga. She is also a certified infant massage instructor (CIMI) with the International Association of Infant Massage and holds an MSc. in Child Health, a BSc. in Occupational Therapy and a Diploma in Counselling, Psychotherapy and Psychoanalysis.
Only in her own pregnancy did Lisa truly appreciate the value of her yoga practice. She can hand on heart put her healthy pregnancy and natural births down to the wonderful gift of yoga. She would love the opportunity to share this with you during this special time.
Lisa teaches pregnancy yoga, mum and baby yoga, postnatal yoga, baby massage, kids yoga and empowering birth. Her prenatal yoga classes are loaded with tips to support you to plan and own your birth experience as well as aid postnatal recovery.
Her mum and baby classes aim to encourage mums to create a community of support for one another during this wonderful but also challenging time. Baby massage courses focus on nurturing touch and frequently include dads to support the bonding process for both parents. Lisa also has specialist knowledge of working with premature babies and babies with additional needs. She is currently pursuing a PhD in the area of childbirth, maternity care and premature babies.
Lisa instructs the following:
Open to those who are completely new to Yoga as well as those who are experienced.

Must be beyond 14 weeks and can continue up until the birth.

Prebooking is essential.

--

What is Prenatal Yoga?

During pregnancy your body goes through many changes, which creates stress on you mentally and physically. A way to maintain a healthy mind and body is prenatal yoga.

Prenatal yoga focuses on poses for pregnant women, in order to increase strength and flexibility.

It also helps pregnant women to develop proper breathing and relaxation techniques for easier and more comfortable labor.

What Are The Benefits Of Prenatal Yoga?

Improved sleep
Reduced stress
Increased strength, flexibility and endurance
Decreased lower back pain
Decreased nausea
Decreased carpal tunnel syndrome
Decreased headaches
Reduced risk of preterm labor
Lowered risk of intrauterine growth restriction (condition that slows the baby's growth)
In addition to the benefits listed, studies have found there is a relationship between prenatal yoga and the reduction of hypertension-related complications, as well as, improvement of fetal outcome.

---

Prices:

Single Class €18
6 Class Pass €100 (valid for 6 months)

Your insurance provider may contribute towards your pre/ postnatal yoga expenses. Check your policy for more details. Receipts can be issued for classes.