Mari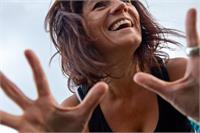 Teacher, inquirer,wisdom-seeker, change-maker Mari Kennedy has been exploring and experimenting with what it means to live fully alive and authentically for the over 10 years.
A Yoga and mindfulness teacher, coach, facilitator and retreat leader she continues to be a student of many wisdom traditions and methodologies including Hatha, Anusara and Scaravelli yoga, mindfulness, celtic wisdom and the expressive arts of Authentic Movement, Journey Dance and Naked Voice.
Mindfulness, heartfulness and playfulness are at the core of her teachings and practice. She create alchemical spaces guiding people back to the wisdom of their hearts and the truth of who they are by transforming all that "appears" to be in the way of living life to its full and highest potential. She weaves various practices through her work including self inquiry, meditation, sound, yoga, movement, bodymind centering, Celtic wisdom, transformational coaching, shadow work and play.
She is a faculty member of the Yoga Room Yoga Teacher training (Dublin) developed and lead mindfulness programmes for The Well at Liss Ard (Cork), has taught on the Oscailt Mindfulness courses and co-founder of Mindfulness Hedge School
Mari is currently not instructing any classes.