Katrin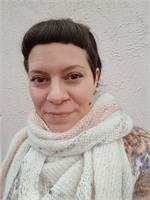 Katrin is a qualified Pilates instructor for Mat and Equipment, and teaches Somatic Movement Education is the tradition of Thomas Hanna. She holds a degree in dance education and an MA in Dance Performance.
Dancing since the age of 5 and taking a first certifying course in 2000 to teach dance, she gradually expanded her knowledge in movement in Germany, Austria, the UK and Ireland. A Somatic Exercise TM coach since 2014, she is currently finishing her 3 year professional training as a Clinical Somatic Educator under Martha Peterson.
Katrin is a regular guest teacher for Dance Ireland and guest lecturer at University of Limerick.
Her focus lies on natural, well-controlled movement without pain and her Mat classes often feature some Somatic Movement refining a deep body awareness and releasing habitual tensions to be able to move freely.
Katrin is currently not instructing any classes.