Katrin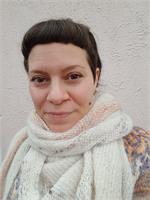 Katrin is a qualified Pilates instructor for Mat and Equipment, and teaches Somatic Movement Education is the tradition of Thomas Hanna. She holds a degree in dance education and an MA in Dance Performance.
Dancing since the age of 5 and taking a first certifying course in 2000 to teach dance, she gradually expanded her knowledge in movement in Germany, Austria, the UK and Ireland. A Somatic Exercise TM coach since 2014, she is currently finishing her 3 year professional training as a Clinical Somatic Educator under Martha Peterson.
Katrin is a regular guest teacher for Dance Ireland and guest lecturer at University of Limerick.
Her focus lies on natural, well-controlled movement without pain and her Mat classes often feature some Somatic Movement refining a deep body awareness and releasing habitual tensions to be able to move freely.
Katrin instructs the following:
Classical ballet is the perfect discipline for improving your posture, coordination, grace and control. If you are new to ballet and always wanted to know how it feels, this course is for you! Whether you practice Pilates or Yoga or go to Barre classes (or teach!), learn more about dance technique and good alignment while moving to piano music.

We start the class with a warm up at the barre, then move to the centre to develop more strength and balance and move into more expansive steps. Combinations moving through the studio create a wonderful sense of flow before finishing with a reverence. If you teach barre classes, but have no previous dance experience, you will learn valuable and transferable aspects of phrasing, progression and safe technique!

You don't need any previous experience, just something comfortable to wear and socks or ballet slippers (no sticky socks or rubber soles!)

7 Weeks €100*

*10% Discount for Yoga Dublin Monthly Members

**No Class Monday, 30th October as it's a Bank Holiday

---

Katrin teaches ballet based on the Vaganova method (Russian style) and has been teaching dance since 2000 to children, teenagers and adults of all levels of experience. She holds a degree in Dance Education, an MA in Dance Performance and is a Pilates teacher and Somatic Educator. She is a guest teacher for Dance Ireland and University of Limerick, teaching Somatic Movement Education in the tradition of Thomas Hanna to professional dancers.