Gigi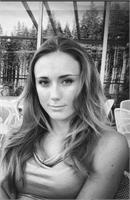 From an early age Gigi has always had a flare for dancing and fitness which has led to her strong passion for healthy living. After school, Gigi went onto Dance College where she studied for two years in Monkstown in The College of Dance and from there attending The Scottish School of Contemporary Dance for a year; after her time in Scotland she came to the realisation that the dance profession wasn't for her.
In college Pilates was taught as part the our curriculum and having a weak core Gigi was constantly told this was something she needed to focus on. From dancing she went on to work a 9-5 desk job; this affected my stamina, strength, flexibility but most importantly her posture. While living in Australia she started taking Pilates on her lunch hour and noticed a difference almost immediately, she quickly realised that this was the profession for her and went onto doing her Pilates training in Sydney, Australia before returning home.
Pilates has changed Gigi's life and taught her the discipline of mind body awareness. She believe's that everyone should incorporate Pilates into their everyday lives.
Gigi is currently not instructing any classes.