Apple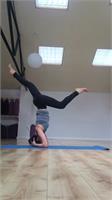 Apple was in search of a practice that would help relieve her bad back pain, after trying a few different things she found that yoga was the best solution. Ever since discovering yoga, she became addicted!

Her hobby grew into a passion and now after years of regular practice, she decided to turn her love into a profession and become a yoga teacher. She has successfully completed 200 hours training with Dave Curtis, and is certified as a Vinyasa Flow Yoga teacher.
Apple has recently started practicing shadow yoga with Dave Curtis and Karen Watson, she is hoping that her own practice will in turn both fresh and challenging aspects into her classes.
Apple instructs the following:
This class is for people who have done yoga before and are looking to progress their practice from level 1 to level 2.

Some experience necessary.