Sophia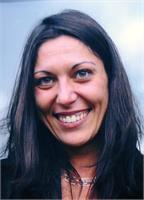 Sophia is a qualified Yoga Teacher. She has been practicing Yoga since 2006 and meditation for the last 10 years.
While practicing various forms of meditation, she discovered the benefits of Mindfulness Meditation and its direct connection with the body. Yoga, and its endless benefits, was the next step in her path.
She completed her Yoga Teacher Training at the Elbowroom under the guide of Lisa Wilkinson, Tanya Fitzpatrick and Marianne Jacuzzi. She has been privileged to practice with some amazing teachers such as Donna Farhi, Desire Rumbaugh and Michael Stone.
In her yoga practice she likes to explore a variety of styles including Hatha, Vinyasa and Restorative. She has a particular interest in anatomy and the interconnection between the physical self and mind. She offers a nurturing and safe space where students are encouraged to develop an awareness of this connection. Her teaching style is open and friendly, making yoga accessible to everyone. Her classes include asanas (practice of postures), pranayama (breathing techniques) and dhyana (meditation).
Sophia is currently not instructing any classes.