Dominique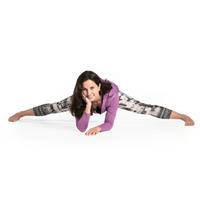 Dominique discovered yoga by accident. She skipped the gym one evening and joined a friend to a yoga class instead. It was a strong physical class but she felt refreshed, energised and clear-minded.
She liked the teacher's creative approach to health and well-being and her unashamed spirituality.
She has since developed her interest under the guidance of David Curtis. She is certified under his Vinyasa Flow Teacher Training Course which consists of 200 hours of training in asanas and pranayama.
She hopes to inspire newcomers to yoga in the same way that she was when she first started. She aims to impart her learnings through stimulating, balanced and safe classes.
She believes that Yoga reveals itself through regular practice. Regular practice leads to self-observation. When personal insights manifest, change becomes possible.
She has begun to explore the preparatory activities of Shadow Yoga. She attends immersion sessions led by Karen Watson and Ruth Walshe. Her home practice reflects her new interest.
Dominique is currently not instructing any classes.