Brie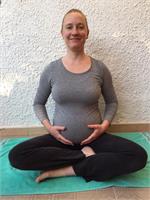 Brie started doing yoga almost 20 years ago and immediately fell in love with it. She did a year of Yoga Teacher Training in Amsterdam with Raja Yoga (http://www.rajayoga.nl/)
She moved to Dublin in 2013 and started doing classes at Yoga Dublin. A front desk in position opened up in Ranelagh and she's been a member of the team for over 4 years.

She had a baby girl in 2015 so can tell you all about the benefits of prenatal classes and mum and baby yoga.

Having had a baby and seeing the benefits of prenatal yoga, she decided to specialise and become a prenatal yoga teacher. She qualified with Melissa Curtis at the Elbowroom and now teaches Prenatal Yoga classes. Currently studying to teach Mum and Baby Yoga classes.

Namaste.
Brie is currently not instructing any classes.