Emma F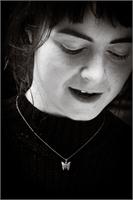 Emma Fitzgerald teaches Mindfulness Yoga. She trained with Jill Satterfield, (U.S.A.) founder and director of Vajra Yoga and the non-profit School for Compassionate Action. Emma loves teaching and over the past five years she has taught adults and children of all ages in Ireland, France and New York City.
Mindfulness Yoga emphasises being present each moment to sense the physical body with clarity and sensitivity and to explore how the skilful use of yoga postures and movement can enhance our over-all health and well-being.
The class combines basic meditative practices, physical asana practice and guided relaxation.
Through-out the class we cultivate an accepting and warm-hearted curiosity towards ourselves and our individual experience inviting mind, body and heart to be peacefully present together.
Emma F is currently not instructing any classes.