Dagmar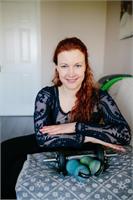 Dagmar Khan is a leading movement educator and stress management specialist who helps people live better in their own bodies. From professional athletes to those exhausted with chronic pain & stress, to everyday people with sports and repetitive injuries, she creates first-class programming to outstanding performance and pain-free wellness.
Dagmar regularly presents self- care programming in universities, fitness centers and medical facilities, runs successful online health advice and trains mind-body professionals to embrace self-care into their movement protocols.
Dagmar is the creator of STRES-LESS: REDUCE ANXIETY & RESTORE EMOTIONAL BALANCE; she is contributing fitness expert to Beat 102 103, and her work has been featured on Yoga Tune Up®, Independent, Regenerate, Irish Swimmer, Dublin City FM, StressNoMore, Munster Express and Waterford News & Star.
For more information about her upcoming book, seminars and online courses, visit www.dagmarkhan.com
Dagmar is currently not instructing any classes.