Naomi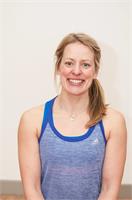 Naomi has been teaching for over 10 years. She originally qualified as a Physical Education teacher with a great interest and passion for exercise, activity and a healthy lifestyle.
Naomi began practicing Yoga in Dublin and went on to travel around the world practicing Yoga in India, Nepal, New Zealand and China. She undertook her 200 hours teacher training qualification with the YTTC in Dublin in 2010 and has since then continued training with many world renowned teachers in Ireland and abroad. Naomi has completed Advanced Yoga studies in India in 2013 and another 300 hours Om Yoga Vinyasa training with international teacher Cyndi Lee in 2015. Along with her Yoga training Naomi has qualified in Advanced Matwork Pilates teaching.
Participating in various activities over the years and with many years experience in physical training, Naomi has found that Yoga and Pilates balance the body and have given her a deep appreciation and experience in mental training to create an holistic approach to fitness and health.
'My classes are inspired by the Hatha and Vinyasa styles in which I have trained and inspired by my own training for sports and movements that I find beneficial for the body. I love focusing on particular aspects of the body to develop within classes and to also integrate flowing sequences. I encourage each individual to challenge themselves to their own abilities in all postures. Movements are taught with a focus on alignment, breathing and relaxation.'
When not on her mat or teaching, Naomi loves getting outdoors and rock climbing!
Naomi instructs the following:
Start your day in an energizing way with an earlybird vinyasa yoga class. Ensuring that you start your day with a spring in your step.

The class will be challenging but she promises not too brutal! So whether you want to stretch before work, or just start your day early with a strong class, come along.

Intermediate Level class - not for beginners.

PRICES:

Single Class: €16
Included in Unlimited Class Passes/ Class Packs