Katie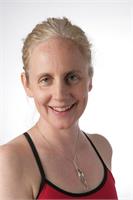 Katie began practicing yoga in 1996 when living in New York, trying out many styles. Her studies and work in the area of psychology brought her back to Dublin. There she embarked on a year long course with Marlene ffrench Mullen at her centre - Sli na Bande in Wicklow. This set her up for the 600 hour teacher training course with the Irish Yoga Association in Dublin from 2001 until 2005 which covered every aspect of yoga from anatomy to asana to meditation and philosophy.
She has been fascinated by how the body works in all the poses, how the mind, the breath and the emotions react to the body's. She loves to bring yoga to anyone interested and believes that these practices are so important for the times we are living in right now.
She has practiced prenatal yoga through three pregnancies and births and loves to bring yoga to this very special time for women. She has trained in prenatal yoga with Judith Crowe, Wendy Teasdil, attended sessions with Uma Dinsmore Tulli and most recently a training on Active Birth with Melissa Curtis.
She has practiced yoga with many other teachers, Iyengar, Ashtanga and Hatha, including Marlene ffrench Mullen, Miriam Brady, Gabi Gilleeson and Tony Purcell. She continues to learn through self practice, workshops, friends, her students. She teaches regular yoga classes in different locations, and prenatal yoga in Yoga Dublin. She has 3 children.
Katie is currently not instructing any classes.