Joanna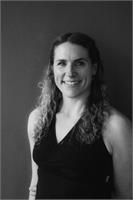 Joanna Collins was born in Dublin and spent her youth training in London. Her yoga practice stems from a dance background namely classical ballet, contemporary and modern, so her teaching is rooted in an innate and precise sense of physicality. She began to train in India in 2004 where she spent 2 years experiencing yoga as a way of life. Her main practice there was in the Ashtanga Vinyasa tradition, practicing with V. Venkatesh (Atma Vikasa, Mysore) and V. Sheshadri (Mysore Mandala Shala). She gained a teacher training certificate in Yoga Education from Yoga Vidyha Dham Institution and then completed her teacher training in Los Angeles at the renowned Yoga Works studio in Santa Monica with her mentor Annie Carpenter www.Anniecarpenter.com
Joanna has been fortunate to study under many senior teachers including, Chuck Miller and Maty Ezraty, Erik Schiffman,Tias Little and David Swenson. In Dublin, Joanna has studied continuously with her teacher David Curtis and was apprentice to him on the Vinyasa Flow Teacher Training course in 2009.
Joanna is specifically drawn to the discipline of Vinyasa Flow Yoga because of the precise alignment and placement it demands on the body and its connection of breath with movement.
Now a mother of three, Joanna found how imperative her yoga practice was to her through the challenges of pregnancy and motherhood, and now also teaches both Pre and Postnatal Yoga and Mum and Baby Yoga.
Joanna instructs the following:
A introductory class teaching foundation and basic poses. Open to new students and accessible for those who've never done yoga before. Join others at the intro level and build confidence to move into other Yoga 1 classes. All welcome!




Level 1-2 classes are for those with some experience of yoga – intermediate and more challenging poses are introduced but variations and modifications will be offered. If you are looking to move beyond your level 1 class, this is for you!

Prices:
Single Class €16
Included in Unlimited Class Passes/ Class Packs
http://yogadublin.com/class-prices