Amelia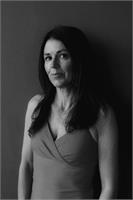 Amelia trained as a fitness instructor in Litton Lane and holds an NCEF (National Certificate in Exercise & Fitness). She is also a qualified Pilates Instructor with Bodyfirm in both Level 1 (beginner) and Level 2 (advanced) mat work.
She loves to teach a challenging class and her students will definitely feel it in all the right places the next day!
Amelia also teaches Barre Concept which she loves as it's a cardio workout combining Pilates and overall body conditioning.
Amelia instructs the following:
Suitable for those who have attended Pilates 1 classes and improver students who want to further their practice. Not suitable for complete beginners. €16 Drop-in




The Pilates Method is an exercise system focused on improving flexibility and strength for the total body without building bulk. It is a series of controlled movements engaging your body and mind,which aims to promote a feeling of physical and mental well-being.Benefits include toning the stomach, buttocks, thighs, upper body. Increasing strength, flexibility, improving circulation and respiratory function. Boosting immune system, improving posture and lowering stress.




Not suitable if pregnant. If you have a regular yoga practice at Yoga Dublin and want to continue attending non ­prenatal class only some teachers permit students to attend when pregnant so please notify us when booking to check with the teacher.




This class combines elements of Pilates and Barre. Perfect if you are a lover of both classes.




Pop up pilates class for the bank holiday weekend!




Mixed Level Pilates Class.

Not for absolute Pilates beginners but fine if you've attended 2-3 classes and are familiar with the basics.

PRICE:

€16 Drop-in
Covered by Unlimited Passes and Class Packs.