Nicole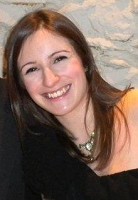 Nicole is a qualified Zumba Fitness Instructor and ZIN member. Nicole has been dancing since the tender age of four, with classical ballet and contemporary dance being her main disciplines. She is a member of Coisceim Creative Steps Contemporary Dance Company and has Advanced Certificates in classical ballet from the Royal Academy of Dance. Nicole has incorporated dance into her academic study, focusing her undergraduate research and dissertation on dance and social inclusion, in particular the experience of dance for older people.
When Nicole discovered Zumba Fitness she was hooked! She found it the ideal way to keep in shape and release stress while having lots of fun. Nicole is currently a postgraduate Social Work student, again incorporating dance and fitness into her area of study. She continues to teach Zumba Fitness classes as a form of dance that is accessible to everyone, whatever their age, ability or fitness level.
Nicole is currently not instructing any classes.