Kitty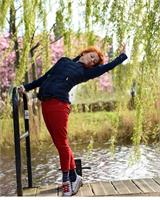 Passionate about movement from an early age, Kitty commenced training as a Ballet dancer at five years old. With a diploma in dance and musical theatre she is also a personal trainer and fitness instructor. Kitty moved to a more therapeutic and holistic practice beginning with Pilates, and then Yoga, undertaking her 200 hour yoga teacher training at Samadhi in Dublin.
Kitty instructs the following:
Open to those who are completely new to Yoga as well as those who are experienced.

Must be beyond 14 weeks and can continue up until the birth.

Prebooking is essential.

--

What is Prenatal Yoga?

During pregnancy your body goes through many changes, which creates stress on you mentally and physically. A way to maintain a healthy mind and body is prenatal yoga.

Prenatal yoga focuses on poses for pregnant women, in order to increase strength and flexibility.

It also helps pregnant women to develop proper breathing and relaxation techniques for easier and more comfortable labor.

What Are The Benefits Of Prenatal Yoga?

Improved sleep
Reduced stress
Increased strength, flexibility and endurance
Decreased lower back pain
Decreased nausea
Decreased carpal tunnel syndrome
Decreased headaches
Reduced risk of preterm labor
Lowered risk of intrauterine growth restriction (condition that slows the baby's growth)
In addition to the benefits listed, studies have found there is a relationship between prenatal yoga and the reduction of hypertension-related complications, as well as, improvement of fetal outcome.

---

Prices:

Single Class €18
6 Class Pass €100 (valid for 6 months)

Your insurance provider may contribute towards your pre/ postnatal yoga expenses. Check your policy for more details. Receipts can be issued for classes.