Michele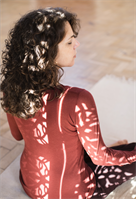 '
Build strength. Manage pain. Feel invigorated. Breathe. Reduce stress. Relax deeply.'
Experienced and accessible, Michele draws on 15 years of study in a number of disciplines, delivering Yoga and Pilates classes and private sessions that range from restorative and therapeutic to powerful and energetic depending on the needs of the individuals in attendance. Her yoga travels have taken her from Satyananda's Rikhiapeeth in Bihar to Patthabi Jois and the Ashtanga tradition in Mysore. Currently, Michele is working toward a Masters Degree in Mindfulness Based Interventions at UCD and delivers mindfulness classes to students in secondary schools.
Michele works throughout the South Dublin area and is available for private sessions with individuals and groups in several locations or in your home or office. Her clients include Royal College of Surgeons, Terenure College and The High School. www.bodyworks.ie
Michele instructs the following:
A introductory class teaching foundation and basic poses. Open to new students and accessible for those who've never done yoga before. Join others at the intro level and build confidence to move into other Yoga 1 classes. All welcome!




Open to those who are completely new to Yoga as well as those who are experienced.

Must be beyond 14 weeks and can continue up until the birth.

Prebooking is essential.

--

What is Prenatal Yoga?

During pregnancy your body goes through many changes, which creates stress on you mentally and physically. A way to maintain a healthy mind and body is prenatal yoga.

Prenatal yoga focuses on poses for pregnant women, in order to increase strength and flexibility.

It also helps pregnant women to develop proper breathing and relaxation techniques for easier and more comfortable labor.

What Are The Benefits Of Prenatal Yoga?

Improved sleep
Reduced stress
Increased strength, flexibility and endurance
Decreased lower back pain
Decreased nausea
Decreased carpal tunnel syndrome
Decreased headaches
Reduced risk of preterm labor
Lowered risk of intrauterine growth restriction (condition that slows the baby's growth)
In addition to the benefits listed, studies have found there is a relationship between prenatal yoga and the reduction of hypertension-related complications, as well as, improvement of fetal outcome.

---

Prices:

Single Class €18
6 Class Pass €100 (valid for 6 months)

Your insurance provider may contribute towards your pre/ postnatal yoga expenses. Check your policy for more details. Receipts can be issued for classes.




Level 2 classes are designed to take you deeper into your practice by introducing asanas which will challenge you equally on strength & flexibility, so you can discover true harmony in body & mind.


Each class combines a dynamic asana practice with meditation, hands-on alignment, basic yoga philosophy, deep relaxation…and some good sounds!

As we suggest more challenging variations as your practice develops, this is a great place for you to laugh, play and grow in your own time.

Not suitable for beginners.